June 10th, 2010 at 6:28 am -
How far can the hard disk go?
For some reason, it's difficult to work up any excitement about hard disks. While lots of aspirational drool is lavished on graphics cards and CPUs, the faithful hard disk is often seen as the tedious and functional part of a PC. This is a damn shame, because it's an ingenious bit of engineering.
Of course, it doesn't help that they're usually housed in an uninspiring silver brick, but if you've clung onto an old hard disks you don't use, it's worth installing an OS on it and flipping off the top to see what makes it tick. You soon realise that inside that dreary box is a wonder of the modern world. The head skates over the platter with clinical precision, fishing out tiny sectors in oceans of gigabytes.
It might be mechanical, noisy and clunky, but the hard disk still can't be rivalled in terms of cost per gigabyte. Let's also not forget that the hard disk has already fought off threats such as the limits of longitudinal recording by moving to perpendicular recording, and plenty of other technologies are planned to keep the future of the hard disk clicking.
These include heat-assisted mechanical recording (HAMR), where a laser heats the hard drive before it's written to, enabling more bits to be stored in a smaller space. Likewise, patterned media is also touted as a future technology for hard disks, writing data to an organised array of single-bit cells, which is stamped onto the hard drive using lithography.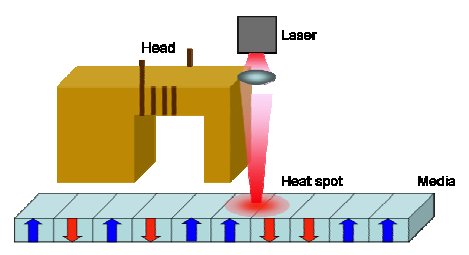 Stop! HAMR time…
It may be a relic of the computing world, but the hard disk is surviving the demands of the modern world remarkably well. However, the hard drive's next obstacle could be the biggest hurdle it's faced yet.
The Problem with 3TB
Earlier this month, Seagate announced that it had its first 3TB enterprise hard disk in development, but the drive brings a fair amount of baggage with it. The problem isn't the move to patterned media. In fact, Seagate's product manager Emily Ford specifically pointed out to bit-tech that, 'We don't need patterned media, or any of that additional technology to get to a 3TB capacity.'
It's not a move to HAMR either. Seagate's senior public relations manager David Szabados explained to us that both HAMR and patterned media are still 'a few years off.' Szabados adds that 'there's a certain number of bits per square inch that sees that limitation, but we're still looking at three to five years.'
In fact, the hard disk's biggest threat at the moment has nothing to do with the limitations of the technology itself, or even the incoming onslaught of solid state drives. As we'll explain over the next few pages, the hard drive's biggest problem is the legacy detritus that's still festering inside the PC's architecture, like an old 17th Century bylaw. In short, simply being able to support a hard drive larger than 2TB will require a shake-up of the PC's foundations.
LBA grease
As with many quirks with PCs today, the problem stems from the early days of the PC's inception. Back in 1981, IBM and Microsoft were working on what would become the very first PC – the IBM 5150. Just to put this into perspective, the 5150 came with a maximum of 256KB of RAM, no hard disk, and up to two 5.25in 360KB floppy drives, although a cassette tape was also a storage option.
Compare those figures to the PCs of today, with 12GB of RAM, 2TB hard drives and 50GB dual-layer Blu-ray writers. Back in the early 1980s, a 10MB Seagate ST-412 hard disk was the stuff of a gambler's fantasy, and Microsoft and IBM had no idea how much storage we would have in the future.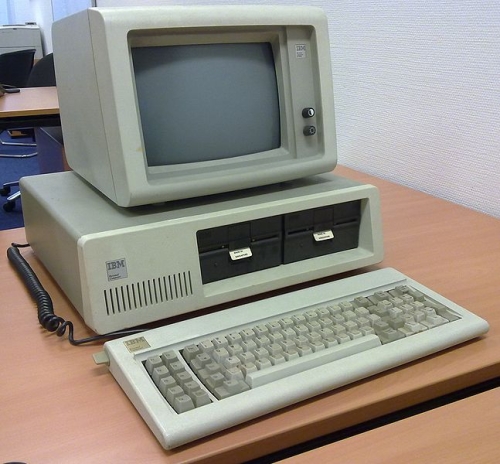 This was once the most advanced PC on the planet, now an Atom netbook pwns it for performance.
As such, it's not surprising to find out that standard PCs can only address a maximum of 2.1TB; a storage capacity that seemed ridiculous at the time that IBM and Microsoft laid out the specification for the original master boot record partition table. It's this master boot record partition table that's the main root of all the problems with 3TB hard disks, as it's effectively dictated the limits of so many areas of storage.
For a start, each of a hard disk's sectors needs to be addressed. Early PCs often required you to manually set up the number of heads, cylinders and sectors in order to address a hard disk. However, this system was later placed with Logical Block Addressing (LBA) a few years later.
An LBA system sees data in terms of 512-byte sectors, as opposed to individual bits, and each one of these sectors needs an address. Of course, sectors don't need to have 512 bytes. In fact, the hard disk industry is currently pushing the move to 4KB sectors, which will in turn require fewer addresses and enable larger capacities. However, this move isn't going yield much extra capacity in the near future.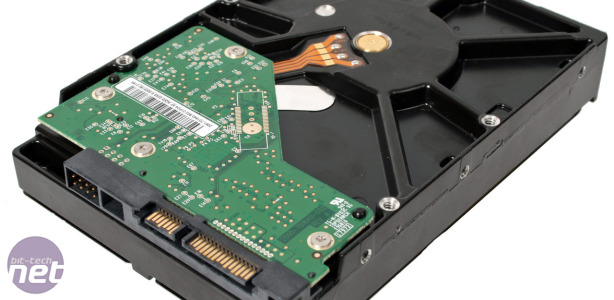 In a document released this month, entitled Deploying the Next Generation of High-Capacity Hard Drives, Seagate explains that 4KB sectors 'will not be implemented at the host level (hard drive controllers, OS, BIOS etc) for a number of years. In the meantime, the storage industry still must contend with a base sector size of 512 bytes, even with the growing need for more capacity.'
However, the legacy LBA system can only address up to 2.1TB. So, if we're stuck with 512-byte sectors then we need a new LBA system, and this in turn means that many people will need a new OS.
An easy way around this is to use Long LBA addressing, which increases the number of bytes in a Command Descriptor Block (CDB). A CDB is basically a formatted chunk of data that can be passed between a hard disk and a PC, and it also contains the LBA information so that the hard disk knows which sector to address. A standard CDB is made up of ten bytes, four of which are allocated for LBA information. However, with the 16- or 32-byte CDB needed for Long LBA, you can accommodate eight bytes of LBA information.
Be my GUID
The problem is that not every OS supports Long LBA, and Seagate says this includes any 32-bit operating system, including Windows XP. In fact, Seagate says that its own tests have shown that a 3TB drive is only detected as a 990GB drive when using Windows XP. On the plus side, the 64-bit versions of Windows Vista and Windows 7 support Long LBA, as do some versions of Linux and Mac OS X.
Okay, so you might need a new OS, that's no biggie, you might think. However, this is just the beginning of the problems with the move to bigger storage. Once 2TB was set as the standard limit for the PC, that's what everyone else set as their limit too.
Seagate explains that ' as a result, operating systems, BIOS controllers, HDD controllers and device drivers have used the same basic limitation of 2TB for the maximum size of a hard drive or logical storage device.'
Of course, device drivers can be fixed, and hard disk manufacturers such as Seagate have been working hard to make sure that devices such as RAID controllers are ready for the move beyond 2TB. However, BIOS controllers present another problem altogether.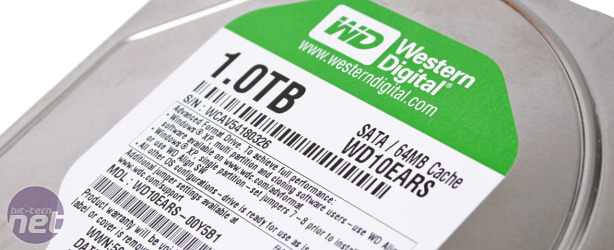 Western Digital was one of the first companies to hit the 2TB barrier, and use the new 4KB Advanced Format
As we mentioned earlier, the master boot record partition table is limited to 2.1TB, and your hard disk's master boot record, or boot sector, is where a typical BIOS gets the code that tells it all the information about a hard disk, and it also initiates the boot sequence. If your BIOS is based on a typical master boot record system (and most of them are), then you won't be able to boot from a drive larger than 2TB.
The answer to this is a new(ish) partition table called GUID (global unique identifier). A GUID partition table (or GPT) enables a computer to address capacities far greater than 2TB, and it also forms a part of the specification for Intel's Extensible Firmware Interface (EFI) system.
EFI was Intel's proposed replacement for the clunky, inaccessible text-based BIOS that we enthusiasts have come to know and love. In 2005, the EFI project was then taken over by the UEFI (Unified Extensible Firmware Interface) alliance, with the aim of making it an accepted standard.
UEFI is potentially a great development, removing legacy hang-ups, while also providing a much more user-friendly setup system. However, it's not easy to implement at all.
Asus is currently in the process of testing a UEFI system on some of its boards, and we spoke to the company's technical PR guru Iain Bristow to find out just how hard it is to implement. 'This is not only the matter of how hard [UEFI] is to implement,' says Bristow, 'rather, it's the matter of how much effort is needed to implement it from scratch.'
You can't just flash a standard BIOS and turn it into a UEFI system, says Bristow, and this means that many of today's standard motherboards will not be able to boot from a disk larger than 2TB.
Winning the UEFI cup
So what's the big deal? Why does implementing a UEFI system involve so much work, and does it really involve starting again from scratch?
'Yes,' says Bristow, 'I do mean redefining the restructure, developing the BIOS kernel and redeveloping all the existing Asus unique BIOS features, all from the very beginning. The UEFI BIOS is a completely different thing from the legacy BIOS which you see on modern PCs.'
According to Bristow, the differences between the two approaches are immense. 'They're even developed and based on a different computing language, and behave in a completely different manner,' he explains, likening the contrast to 'the difference between a pure DOS and Windows platform.'
As well as this, any modules that Asus has worked on will not be backwardly compatible with UEFI, so every single feature will need to be developed again from the beginning.
What's more, once you've made your UEFI motherboard you then have the fun of testing every single feature to make sure it's stable and compatible with all the appropriate hardware. Plus, Bristow notes that 'changes are essential to the existing production chain and after-service chain to cope with this change, due to the need to replace the existing test tools.'
The traditional BIOS may be a historical relic of computing, but it's been constantly refined and tweaked, particularly over the last few years, and decades' worth of work potentially stands to be lost in the switchover to UEFI. As Bristow points out, 'due to the maturity of the newly born kernel, more resources are also needed to ensure the same level of compatibility when comparing with existing products based on the legacy BIOS.'
Asus currently doesn't have a schedule for the introduction of UEFI motherboards, but Bristow points maintains that 'as the leader in the motherboard industry, there's no doubt that Asus holds the technology to move to 3TB support.'
In fact, other motherboard manufacturers have already dabbled with this potential usurper of the BIOS. One is MSI, which announced three Intel P45-based motherboards with a 32MB UEFI ROM a few years ago, which it refers to as its ClickBIOS system.
Speaking to bit-tech, MSI's Garrett Wu in Taiwan said that the company 'plans to implement UEFI on whole new product series in the end of this year,' as well.
In the meantime, Seagate says it plans to introduce its first disks that go beyond 2TB by the end of this year. This starts with an enterprise-level 3.5in drive, and Seagate reckons that this will involve fewer issues than a consumer desktop hard disk.
When it comes to consumer hard disks, Seagate's senior product marketing manager Barbara Craig explains that 'there are more issues with the bootable aspects on more than 2TB.' Although Craig was unable to tell us when we could expect a 3TB consumer hard disk, she said that 'I do believe that it is a later release,' compared with the enterprise drives.
However, even with the work that the industry has already done to ease the process of moving to larger hard drives, Craig says that there's roughly 20 per cent of the job still to be covered.
In terms of what this means for us, we can probably expect 3TB consumer-class hard disks to start appearing next year, by which time we're going to need to have gone beyond 32-bit operating systems, replaced the BIOS with UEFI and got a whole new collection of drivers. Can it be done? Yes, but we can certainly expect teething troubles.