January 24th, 2012 at 10:48 am -
CES grows bigger than ever
While pundits have been discussing the demise of the Consumer Electronics Show – as they have been doing pretty much every year since it first started back in 1967 as a New York-based spin-off from the Chicago Music Show – the show's owners, CEA, have been seeing quite the opposite. At 1.861 million net square feet of exhibition space, this year's CES is the biggest yet, handily beating 2008's record of 1.857 million net square feet.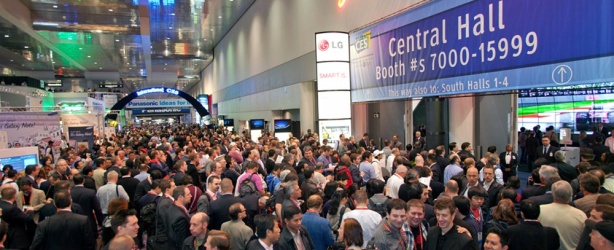 If you don't like crowds, the CES isn't for you
While the majority of goods on display are a little out of the remit of a site such as ours – but impressive nevertheless, with LG's large-scale 55in Organic LED (OLED) TV set possibly the highlight of the consumer-oriented gear on show – the usual crowd was out in force showing off their latest and greatest creations.
Microsoft bids fare-thee-well
It wasn't all good news for the CEA, however: Microsoft, typically one of the first companies to offer a keynote speech at the show, announced that this year would be its last.
We'd like to say the company went out with a bang, but we'd be lying. Steve Ballmer, joined for some reason on stage by Ryan Seacrest, had little to say; the biggest announcement of the day being the launching of the Kinect for Windows programme, due to drop at the start of February.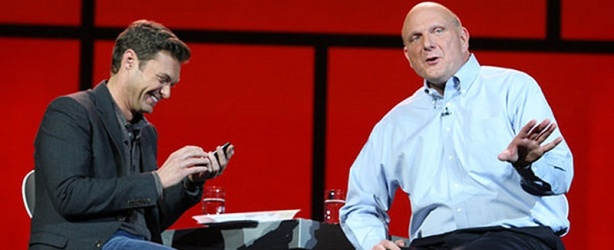 Steve Ballmer and Ryan Seacrest chatting about very little
While the announcement of another Nokia-build Windows Phone got some interest, the remainder of the keynote was dull in the extreme. If you're having trouble sleeping, however, here's a soporific summary by Microsoft's Frank X. Shaw.
Intel goes on an Ultrabook offensive
If the 2011 CES was tablet-heavy, 2012 is the year of the Ultrabook. While some manufacturers were still clinging on to the touch-centric paradigm – in particular Lenovo, which was showing off the IdeaPad Yoga Ultrabook-cum-tablet running a developer preview of Windows 8 with the Metro UI – the majority of companies have found a new bandwagon on which to jump.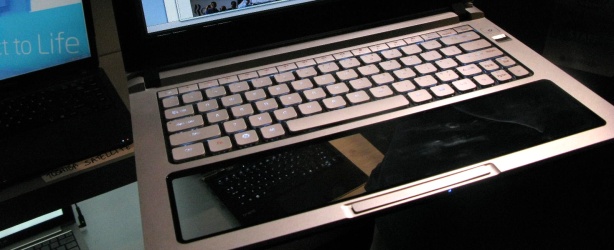 Intel's Nikiski concept is certainly swish
Highlights of the devices on display include: Intel's own Nikiski concept, which features a transparent touchpad region, allowing a portion of the screen to remain visible while the device is closed; HP's Envy Spectre, the company's first true Ultrabook and one made mostly out of toughened glass; and another Intel concept that borrows heavily from the Asus Eee Pad Slider.
Intel also used the event to make some promises about the technology that will find its way into Ultrabooks of the future. The announcement of a strategic partnership with voice recognition specialist Nuance, creator of the Dragon range of dictation software, suggests the company is looking at Apple's Siri for innovation; while Intel vice president Mooley Eden told attendees to expect multiple touch-screen devices like the IdeaPad Yoga – to be sub-branded 'Ultrabook with Touch' by Intel – over the coming year.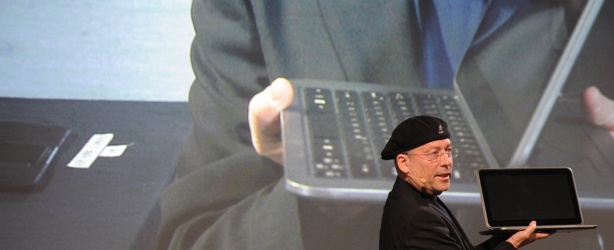 Intel's Slider looks a bit familiar
Finally, AMD had an announcement of its own to make: a rival ultra-portable platform based on Trinity second-generation Bulldozer parts, drawing just 17W while undercutting Intel's Ultrabook platform in price.
Just because the Consumer Electronics Show is aimed at consumer electronics doesn't mean there's nothing for the enthusiast: nestled among the tablets, laptops, fridges, washing machines and TVs are a few gems for those planning an upgrade in the near future.
Dual-Socket 2011 motherboards
Yes, you read that right: one of the highlights for performance enthusiasts this year was the presence of a handful of dual-socket motherboards for Intel's Socket 2011 from both Asus and EVGA. Offering the chance to double-up on top-end chips, the workstation-class boards are nothing short of remarkable.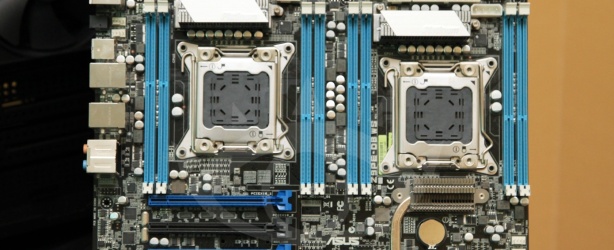 A shot of the Asus Z9PE-D8 WS, taken by VR-Zone
Before you get too excited, however, a warning. Thus far, neither company has confirmed support for Intel's Sandy Bridge-E processors, which feature a single-QPI (QuickPath Interconnect) design that could leave them unable to operate in a dual-processor configuration. Instead, both boards are designed for the business-oriented Sandy Bridge-EP Xeon chips due to drop in the coming months.
CoolerMaster builds a PC-heatsink-PC
The oddest item at the show was a concept device from CoolerMaster which combines a V6 CPU heatsink – still fully operational and ready to be installed on a motherboard of your choice – with an embedded AMD E-350 APU-based PC platform. The question that CoolerMaster has yet to answer: why?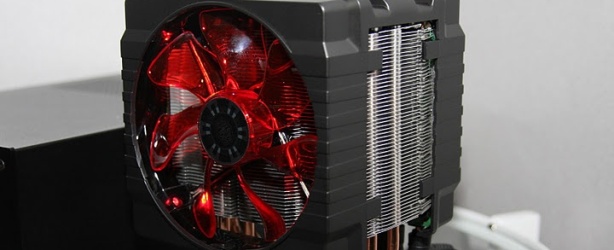 PC Perspective's picture of the PC in your PC from CoolerMaster
EVGA targets overclockers
As well as its dual-socket motherboard, EVGA had a couple of treats for enthusiasts at the show: fully-modular power supplies, ranging from 650W to 1,500W models; and an Android app which connects to Bluetooth-enabled EVGA motherboards and graphics cards for on-the-fly overclocking even while running full-screen apps. No news on a launch date, sadly.
Intel brings the fight to ARM
For chip enthusiasts and smartphone fans, the biggest news of CES came from Intel: the release of a new Atom processor designed to take the fight directly to ARM's door.
For years, ARM has been the architecture of choice for smartphone makers: its low power draw, relatively high performance and system-on-chip design – which reduces overall component size and complexity, an important consideration for smartphones – make a compelling argument. Since giving up its own ARM licence – used to produce the XScale range of chips – Intel hasn't really had a look-in.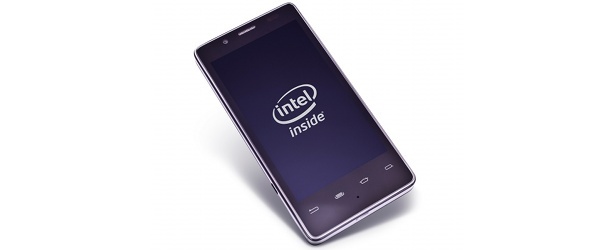 Intel's Atom-powered smartphone reference platform
Until now, that is: the first Medfield-based Atom was unveiled at CES, taking the form of the Atom Z2460. Using the same system-on-chip design as ARM processors, the Atom Z2460 – codenamed 'Penwell' – packs a single 32nm 1.6GHz Atom processing core, 512KB of Intel SmartCache and a PowerVR SGX 540 GPU running at 400MHz into a 12×12mm package-on-package.
While the fact that the chip is single-core will come as a disappointment to some, that one core is blazingly fast: benchmarks carried out by AnandTech show it zipping through the SunSpider JavaScript benchmark faster than any other phone on the market, including Apple's iPhone 4S and Samsung's Galaxy Nexus; both ARM-based devices.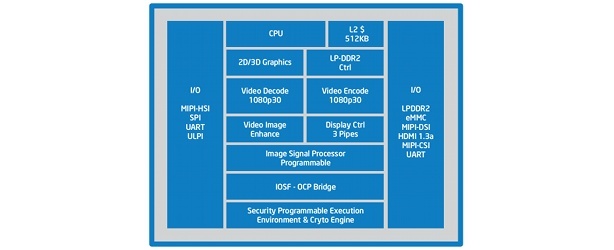 It's only single core, but the Z2460 boasts impressive performance
With a claimed power draw of just 1W during web browsing, Intel could finally have something to offer serious competition to ARM; and it's already signed up Lenovo, which is to release a variant of Intel's reference platform smartphone design in China, and Motorola, which will be partnering with Intel on a range of Atom-based devices due towards the end of the year.
For those of you who like your technology to be as portable as possible, this year's CES had plenty to go at. Even ignoring Intel's focus on Ultrabooks, tablets and mobiles were still a big theme at the event.
Asus teases upgraded Transformer Prime
The Transformer Prime convertible Android-powered tablet-cum-netbook is barely on shop shelves and already Asus is toying with the idea of launching an upgraded version for those with particularly good eyesight.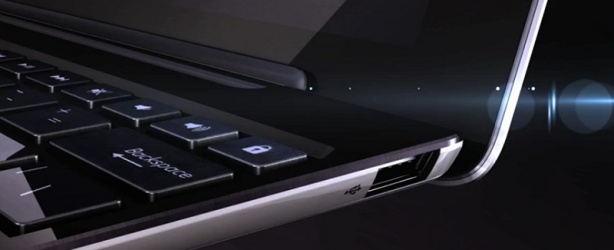 1920×1080 in a tablet? Whatever next?
Dubbed the TF700T, the new Transformer Prime includes the same Nvidia Tegra 3 processor and 10.1in layout as its predecessor, but increases the display resolution to a whopping 1920 x 1200 and modifies the design to improve Wi-Fi and GPS signal strength.
Razer reveals Project Fiona
Its design has been the cause of some controversy among our readers, but Razer's Project Fiona is nothing short of dramatic: featuring a 10in display, the Core i7-powered tablet uses a pair of force-feedback capable controllers either side of the screen to bring PC games to a portable realm. With the clamshell Switchblade still likely vapourware, few are believing Razer's claimed plans to launch the device later this year at around $1,000.
Nokia launches new flagship Lumia
If you found Nokia's Lumia 800 flagship Windows Phone a trifle underwhelming, good news: the company has launched a new top-end model, the Lumia 900, which features a much more impressive 4.3in display but retains the same 1.4GHz single-core Qualcomm processor and 512MB memory internally as its predecessor.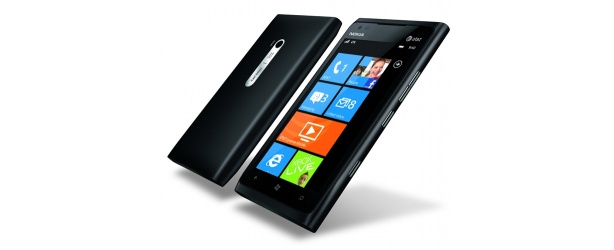 Can a bigger screen save Nokia's Lumia series?
Despite some interesting design choices – the body is constructed of polycarbonate plastic, at a time when many high-end smartphones use metal or glass – the gadget was popular enough to walk away with the award for Best Phone, so perhaps Nokia's misfortunes could be over?
bit-tech.net