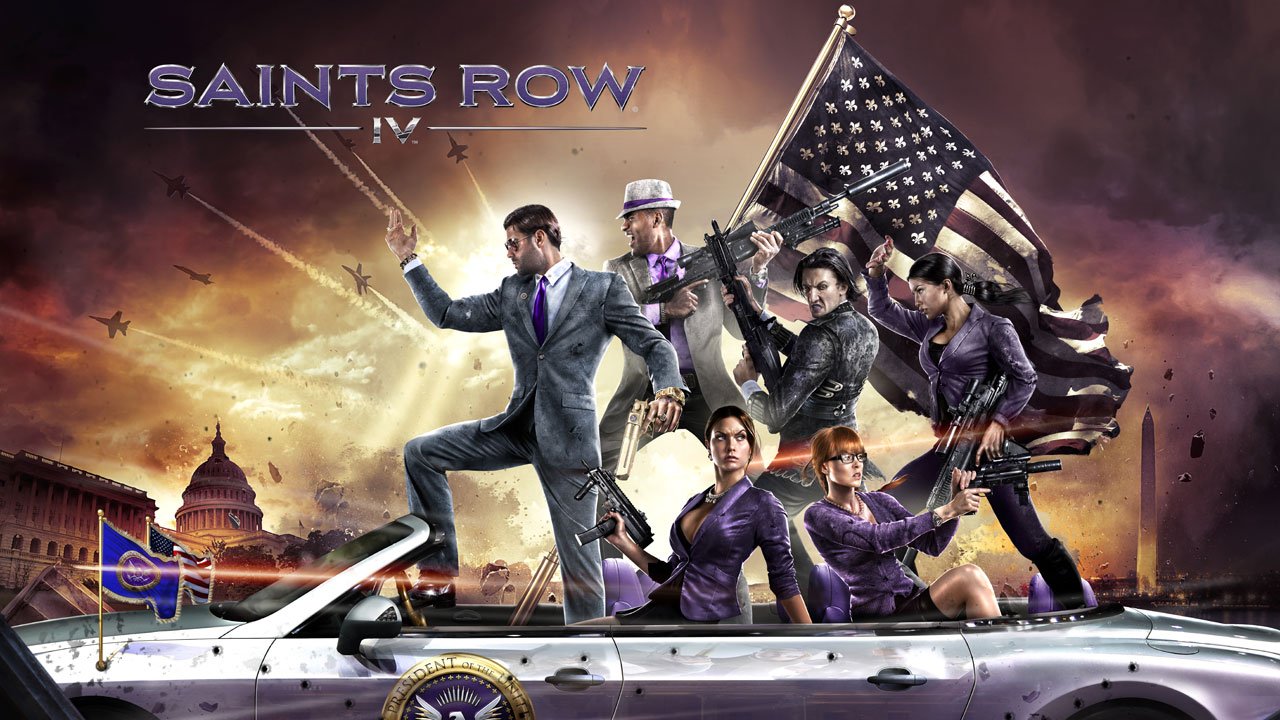 September 2nd, 2013 at 6:29 am -
It's tempting to say Saints Row IV is the most fun you can have with your trousers on, but that wouldn't be completely true, and not just because in Saints Row trousers are entirely optional. On the official bit-tech trouser scale of enjoyment, which ranges from waist-high boredom to completely off fun-times, Saints Row IV is at ankle level. On the verge, but not quite there.
It's a game absolutely bursting with ideas, but it doesn't seem entirely sure how best to articulate them, a bit like a child telling you a story and making it up as they go along. It's frequently funny and always endearing, even when it starts giggling because it cracked a joke about poo, but the plot's elements are all cobbled together from bits of its favourite TV shows, and nothing quite stands out enough to give it an identity of its own.
Beginning with a Zero Dark Thirty parody incursion into a terrorist base, the celebrity-gangster and now apparently Special Forces team known as the Third Street Saints end up stopping a nuclear launch in typically absurd fashion, which leads to their leader -- you -- becoming President of the United States. (This makes for an especially amusing beginning if you pick the Cockney voice for your character, a choice which we would highly recommend.)
Unfortunately, your tenure as the East End's first leader of the free world is short lived, as an alien empire named the Zin invade Earth, abduct your entire entourage, and imprison you alone in a computerised simulation of Steelport, the city from Saints Row: The Third. This is where the game begins in earnest, and also where the first eyebrow may rise at this fourth iteration of the series.
In terms of layout and design, virtual Steelport is the same as it was in the Saints' previous outing. Volition haven't expanded the base city in any way, which is a tad disappointing. It's also visually less appealing than it was in the previous game. The day/night cycle has been removed, and the city is perpetually overshadowed by grey-brown clouds, which accompany the glowing red Zin structures hovering over the metropolis in expression of the extraterrestrials' dominance over you. The logic here is understandable, but it's also counter to Saints Row's trend toward vibrant absurdity and illogic. Saints Row doesn't do things because they make sense, it does them because they're fun.
Although the city doesn't look vastly different to how it did previously, it definitely feels different, and this is because of the game's most prominent new feature -- superpowers. To break out of the simulation, the Saints decide to hack it, jack it and generally cause as much chaos as possible within it, which is basically how they solve every problem. Never ask a Saint to iron your shirts. The immediate consequence of this is while within the city you can run faster than a Formula 1 Car and leap over buildings.
The superhero movement is definitely the game's most entertaining new addition. The controls are slick and precise, and dashing down highways and leaping over skyscrapers feels so good it renders the game's vehicles almost completely redundant. Playing the superhero is also encouraged, through collecting "clusters" used to upgrade your powers, which are liberally scattered across rooftops, on top of chimney stacks and bridge supports.
Alongside these passive powers are abilities that can be used against your alien overlords. These include blasts of fire and ice which freeze and incinerate enemies, making them more susceptible to damage. Telekinesis, meanwhile, allows you to grab enemies and cars and throw them with great force into whatever needs forcefully removing. The best power, however, is stomp, which sends a shockwave through the ground, blasting back anything around you that isn't nailed down. This can also be used while jumping, and is later accompanied by a similar yet more accurate ground-punch.
Unlike the movement powers, these abilities don't render your weapons useless. The standard arsenal remains handy throughout the game, while the more esoteric weapons vary in quality. The heavily marketed "Dubstep gun", is actually one of the more practical weapons, particularly when you unlock "explosive wubs". Others, such as the inflato-ray and the abduction gun, are entertaining enough but probably won't replace your good old fashioned RPG or shotgun in the long run.
Nevertheless, you'll probably spend more time stomping Zin troops off the edge of skyscrapers than dispatching them with more conventional (by Saints Row standards) weaponry. So it's annoying that there's so much disconnect between running around Virtual Steelport as a superhero and following the main quest, which either by bringing you back into the "real" world or some other contrivance tends to temporarily strip you of those superpowers.
Consequently, the primary missions simply aren't as fun as bounding around and kicking aliens into the sky. That isn't to say they don't try, they really do. Based around rescuing your crew from both their own nightmarish simulations and the alien ship on which their physical form is present, forming your own Mass Effect-style squad in the process, they range from stomping around the alien mothership in powered armour to defeating a Godzilla-sized can of the Saints' branded energy drink "Saints Flow". One of the later missions, which apes a classic 16-bit game that shall remain nameless, is a particular highlight. All are amusingly written and entertaining to play, but more often than not they reject rather than embrace what is quite clearly the most compelling part of the game.
Fortunately, there's absolutely loads of non-storyline stuff which does involve using your superpowers. A small sample includes clearing out alien checkpoints or fortress-like hotspots, running races through the city, climbing massive alien towers using your super-jump, taking on other heroes in "duel" training scenarios. These are available alongside beefed-up versions of the previous game's secondary missions, such as causing mayhem in a UFO or running into traffic and committing insurance fraud as only Superman can. And of course the city can be explored in cooperative mode, which comes with its own specific side-missions such as duels, cat-and-mouse chases through the simulation, and so forth.
Saints Row IV justifies its re-skin of Steelport with plentiful content and a brilliant new way of exploring the city. But its attempt to blend so many different genres, sci-fi, superheroes and cyberpunk, results in a lack of cohesion and the game failing to capitalise on its strongest features. Still, like we said before, Saints Row doesn't do things because they make sense, it does them because they're fun, and it delivers that by the truckload.
Bit-tech.net