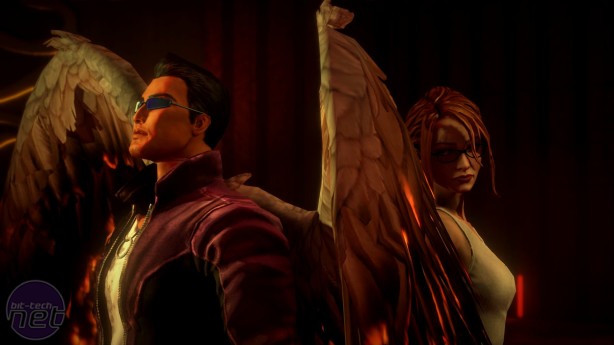 February 2nd, 2015 at 8:42 am -
When the Boss of the Saints is kidnapped by Satan and forced into a shotgun wedding with his demonic daughter Jezebel, Johnny Gat forms a rescue plan; travel to Hell and shoot the Devil in the face. But he won't be working alone. Accompanying him into fiery Damnation is hacking whizz Kinzie Kensington, while Hell's community leaders, including Blackbeard, Vlad the Impaler and Shakespeare (yes, you read that correctly) are more than willing to lend Gat a bullet or two.
Gat out of Hell's premise is superb, another dazzlingly daft idea from Volition in their redeemed Saints Row series. The idea of the Saints licking Lucifer on his own turf is deserving of a full sequel, let alone an expansion pack. In fact, I kind of wish that's what Volition had done, because as an expansion Gat out of Hell falls short of its potential.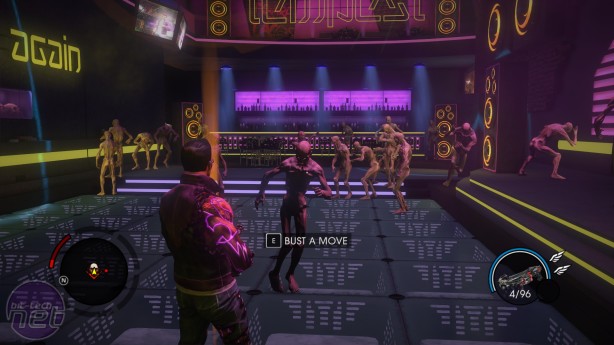 This isn't to say Gat Out of Hell is a bad expansion pack. You'd have to be mad as Gat himself to believe such an absurdity. It offers a surprisingly large new city to explore that's typically crammed with stuff to do. Its writing is as playfully subversive as anything in the third or fourth game, and Johnny Gat's newly acquired wings are an excellent evolution of Saints Row IV's superpowers. It even has a musical number.
The problem is how Gat out of Hell balances many of its features. Almost everything in the game is either reused, underused, or overused. The design of Hell is probably the best example of this. Volition's version of the Christian underworld is basically Steelport again, but broken into pieces, shaken up in a bag and then slathered in orange paint. There's a deliberate lack of environmental consistency. Highways are improbably long, bits of the city float in the sky, and the five districts are arbitrarily separated in their function.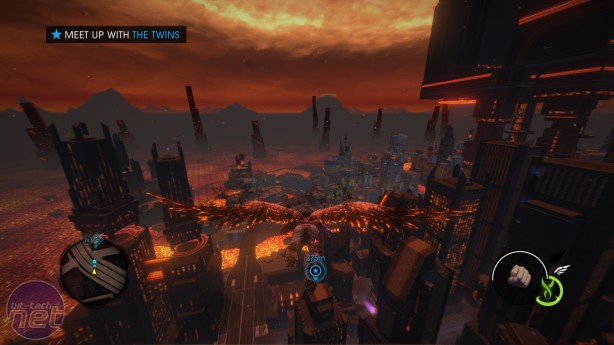 From the air Hell impresses both in its size and its vertical design. The city's skyline is crammed with cranes, skyscrapers and floating platforms, all of which complement zipping about using Johnny Gat's wings. Unfortunately, when you're on the ground Hell is considerably less attractive. The brown/orange colour palette results in an incredibly murky aesthetic, which is the absolute last thing that Saints Row's rather crusty engine needs. Moreover, three of the five city districts – the starting district, the Slums and the Barrens are a wash of crumbling grey buildings or tumbling grey rock. I know it's supposed to be Hell, but I don't think it's actually supposed to torture the player's eyes.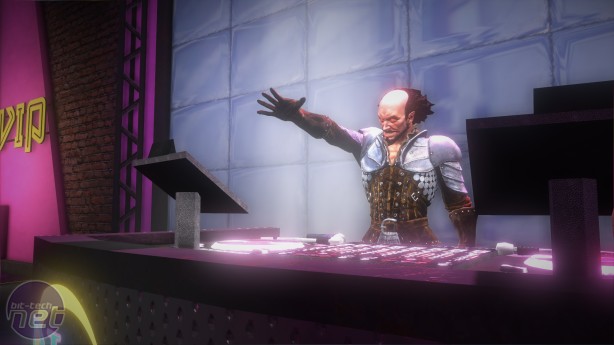 Hell encapsulates both Volition's ambition and the reality of what they can dedicate to achieving it. It's artfully created in some areas, hastily thrown together in others. It also appears to be where the majority of Gat out of Hell's budget went. Other features you'd expect in a Saints Row game are either considerably trimmed down or missing entirely. The fantastic cut-scenes that bookended missions previously are reduced to three or four character exchanges. It's strange to be complaining about the lack of cut-scenes in a game, but Saint's Row actually made them worth watching through its interesting cast of characters and some of the funniest writing in recent years. What's there is on par with the full games, and the aforementioned musical number is possibly the best thing Volition has ever done. Later on, however, when Jezebel breaks into song a second time, Gat abruptly cuts her off, yelling "We're not doing that again!" which is developer-speak for "We wanted to do this again but ran out of money."
These constraints on Volition's abilities are visible elsewhere too. Early on in the game it suggests you recruit Hell's biggest names to your cause, namely Shakespeare, Blackbeard, and Vlad the Impaler. The idea of forming a rebellion against Satan with some of history's greatest figures is delightful, and Volition's introduction to each is strong. Vlad, for example, is imprisoned in what is essentially a giant nursery that plays the first few verses of "Wheels On The Bus" on loop for eternity. But all these characters ultimately do is offer you a new power. Their "loyalty" missions consist of a string of side-activities you must complete, and that's pretty much the end of their influence on the story.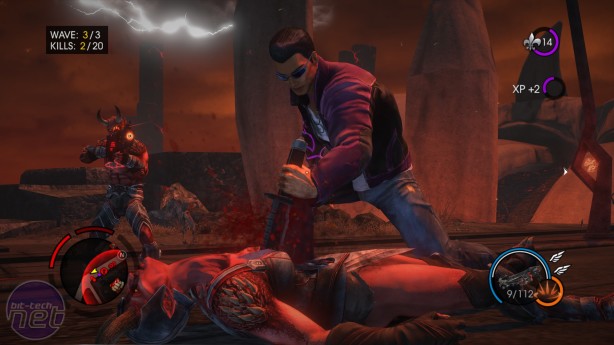 Speaking of missions, the lack of a central "campaign" is perhaps the biggest omission of all. Instead, you push the story forward by completing side-activities, which fills a bar representing "Satan's wrath", eventually triggering the next plot point. It works well enough, but again Volition have a knack for creating highly entertaining campaign missions, certainly better than what most open-world games provide.
There's one other missing piece that ought to be mentioned. Because you play as a specific individual (which can be either Johnny Gat or Kinzie depending on your preference), there's no ability to customise your character. Neither can you alter their costume, or any of the vehicles. These don't leave as big a gap as the lack of core missions or the stripped-down script, but at times I did miss the ability to tailor a daft superhero costume to wear while flying about.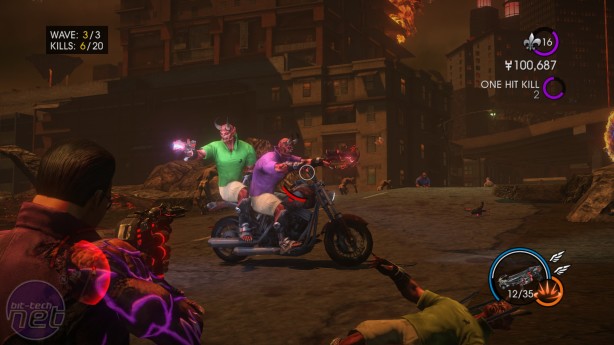 Again, it's an expansion pack, so we shouldn't expect too much. But expansion packs are normally an extra portion of the same dish. Gat out of Hell, on the other hand, is a completely different meal cooked with half the ingredients missing.
The good news is, what Volition have managed to plate up is still pretty tasty. As with Saints Row IV, Volition make the simple act of getting about a liberating joy. In Saint's Row IV, flying was limited to a gradually descending glide. By comparison, Gat out of Hell's wings are far more involved, requiring controlled descents to build acceleration and carefully timed wing-flaps to ascend without stalling. Flying can also be upgraded to increase speed, manoeuvrability, stamina and the number of flaps available before you need to land. Within a couple of hours you'll be swooping gracefully around Hell, snatching upgrade clusters from the rooftops of skyscrapers, and dropping into enemy-occupied control-points to deal a dose of un-death to Satan's innumerable minions.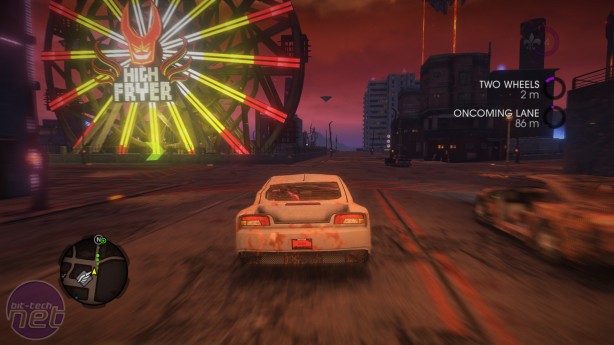 The other available powers are largely re-skinned versions of those seen in IV. Blast now turns enemies to stone, which instantly kills the several types of flying opponents that pester you through the game, while stomp can be altered to send enemies flying, or emit a "Holy Flash" that does extra damage. In addition, Volition have designed a suitably hellish set of weapons; a lightning-charged hammer of the gods, a machinegun that spits lava, and best of all, a crossbow/shotgun combo that fires a half-dozen wooden stakes out in an arc.
Individually, there's no particular weapon or power that stands out. Yet when you put it all together, Gat out of Hell is a blast. My favourite tactic was to dive-bomb into a group of enemies, send them scattering with a fully-upgraded force-stomp, and pick off the stragglers with the cross-shotty, switching to the rocket launcher for vehicles. Sadly, like Saints Row IV, few side-missions cater toward such open play. Returning missions, like Mayhem, restrict you to using a specific weapon, while the new "Hellblazing" activity focuses purely on flying through checkpoints. The capture-and-hold "Extraction" facilities are set indoors, making your wings more of a hindrance than a help. The only time when you can combine everything is while assaulting the "Marshalling Grounds", control of which lets you teleport around the map. The only problem is, during the entire game I never used the Marshalling Grounds because I had bloody wings.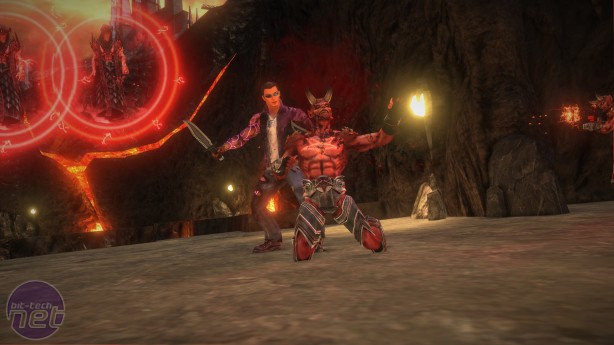 Gat out of Hell sees Volition wring out the very last drops of what's possible with the current Saints Row formula. I admire that they attempted such a fantastic idea in an expansion pack, but I also feel that this particular performance deserved a bigger stage. What's more, Volition need to think a little harder about how to incorporate different play-styles into the various activities, instead of restricting the player's abilities for the purpose of individual side-missions. In the end, as a fanciful escape from January's reality of returning to work and dealing with the taxman, Gat out of Hell does its job just fine.
BIT_TECH.NET