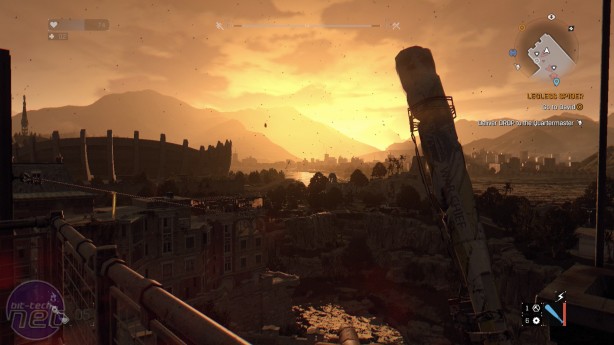 February 11th, 2015 at 8:10 am -
I've played so many zombie games in the last few years that I've begun making a noise like a zombie whenever a new one is announced. "UUUUUUUUHHHHHHHH," I go, when Undead Studios or some-such reveals Yet Another Open World Zombie Game With Survival And Crafting Elements. It has reached the point where simply referencing the abundant yield of this particular genre is approaching the point of cliché.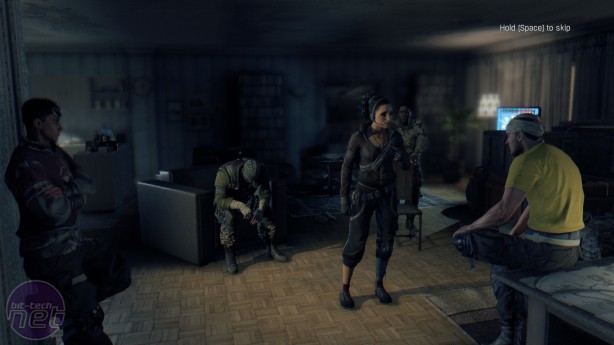 Techland are partly responsible for the growing sense of ennui surrounding the undead. Their Dead Island games are prime examples of zombie survival at its least ambitious, borrowing various systems from other, more interesting titles and using zombies as a sort of fleshy glue to create one brown, sticky whole. The game was slow, the melee combat was flimsy, and its zombies were about as interesting as you'd expect a shambling corpse to be.
In some ways Dying Light is quite similar to Dead Island. It too borrows many of its mechanics from other sources. The difference is that it works. Dying Light's adoption process is far more specific than Dead Island's vaguer open-world antics. What's more, Techland have clearly learned from their earlier efforts, because the vast majority of what was broken in Dead Island has been fixed, refined, or improved here. In short, Dying Light is the whetted steel to Dead Island's blunt instrument.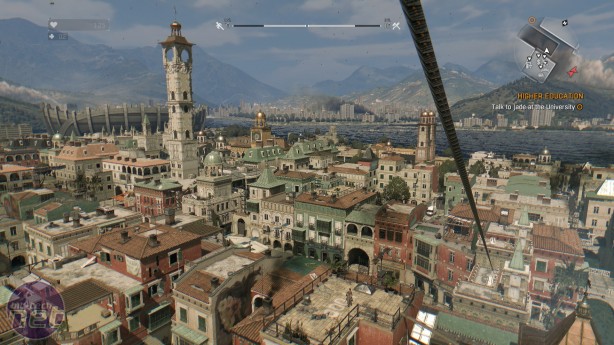 Dying Light places you in the running shoes of US government agent Kyle Crane, who happens to be the world's worst covert operative. Deployed into the zombie-infested city of Harran to retrieve stolen documents from a fellow agent gone rogue, within seconds of his arrival he is beaten to a pulp by bandits and bitten by a zombie. James Bond he is not. Rescued by a survivor named Jade, Kyle is taken to a nearby sanctuary known as the Tower, where he finds himself torn between his mission and his desire to help the people who saved him from a grisly death.
Although Kyle sucks as a spy, he excels at running over rooftops and breaking zombie faces. This is fortuitous, as it's also what you'll spend most of your time doing. As a free-running game Dying Light is essentially what everyone hoped Mirror's Edge would be seven years ago. Anything that looks like it can be climbed can be, and the open nature of Harran means you're free to pick your own path, rather than having to move according to the rhythms the game dictates.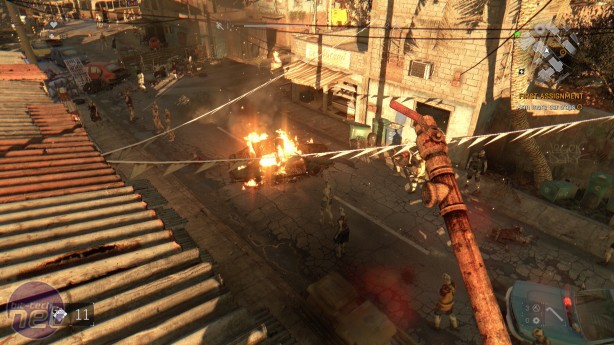 At the same time, it doesn't do the hard work for you as Assassins Creed tries to. You need to direct Kyle specifically toward the ledges you want to climb, and he can only jump a short distance. Missing a jump doesn't necessarily mean certain death, but if you're leaping from a high ledge you'll need to identify a safe landing spot, be it in a pile of rubbish, on top of a vehicle, or a comfy shop awning.
The free-running element fits naturally into a zombie game. It makes sense to stick to the rooftops when the streets are crammed with shuffling corpses, and the ability to quickly break away from an approaching horde by diving into a nearby shop or clambering onto a car results in a wonderfully kinetic experience. And it's all delivered so fluidly. Occasionally a climbing animation won't quite match the scenery, or a ledge-grab will feel strangely contrived, but for the most part Dying Light's animation transitions are seamless.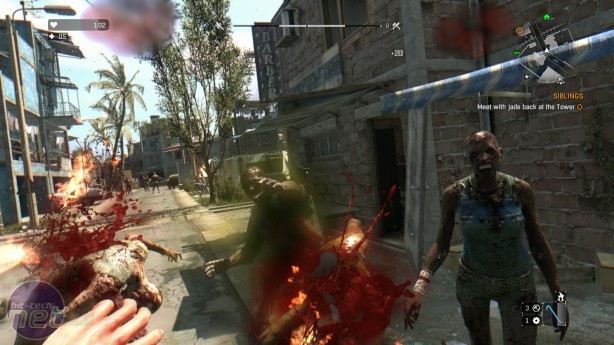 While the free-running is certainly empowering, it doesn't make you invincible. The least mobile zombie will still endeavour to chase you, even if it's by stumbling pathetically over the wall of a roof terrace and plummeting to the street below. Yet there are other types of zombies that provide a sterner challenge. Virals are zombies that only recently turned, meaning they can run quickly and climb nimbly. They also demonstrate disarmingly human traits when attacked, squealing in pain and begging you to stop, before leaping for your throat again the moment you hesitate.
If cornered by a Viral you'll almost certainly need to fight back. Combat has been vastly improved over Dead Island's lightweight flailing. Melee weapons now have a real heft to them, and zombies reel convincingly from the focus of their impact. Particularly effective blows are accompanied by a slow-motion effect or a grisly "x-ray " filter that shows skulls and bones shattering beneath your bludgeon. It's gratuitous, but it also conveys how tooth-and-nail these fights often are. You're usually massively outnumbered, and the undead attack with an equal level of savagery, lurching forward to have a good munch on your neck, or scratching at your eyes with ragged fingernails. There are also a small number of far trickier human opponents, who dodge your swings and throw knives and molotovs at you.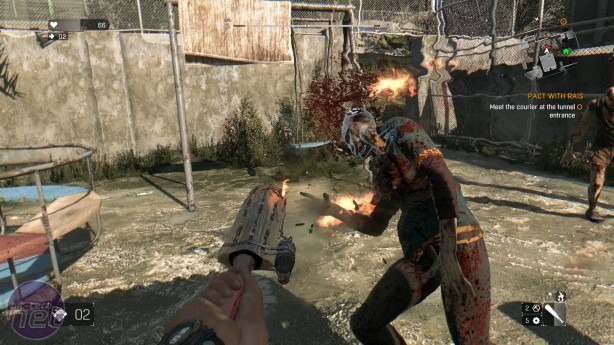 Dying Light also goes to great length to expand upon its basic free-running and zombie-slaying. There are multiple skill-trees that offer a wide range of upgrades, including an fantastic dropkick move that is perfect for launching a zombie off a rooftop or into a conveniently placed fire or wall of spikes. Weapons can be upgraded to deal fire or electrical damage, via an extensive crafting system that sees you raiding shops and houses for appropriate materials. Like Dead Island, weapons also need to be maintained. Thankfully, rather than spending thousands of dollars to fix a crowbar, repairs are performed using "metal parts", and there are only so many times a weapon can be patched up before a new one is required.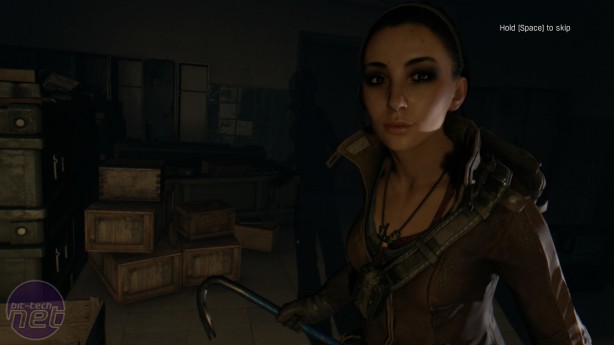 The core of Dying Light is generally well balanced, never leaving you particularly over or underpowered, and encouraging you to explore the city without bogging the game down. The only annoyance is the menu screens are quite fiddly, with the keyboard commands apparently having been arranged by organising a raffle. It's a general improvement of Techland's previous output in pretty much all areas. But Harran only gets truly interesting when the sun begins to set.
About an hour before darkness, your companions in the Tower will warn you to head for the nearest safehouse. As the last shafts of sunlight vanish from the sky, the darkness is pierced by a harrowing scream, and suddenly Dying Light is a different game.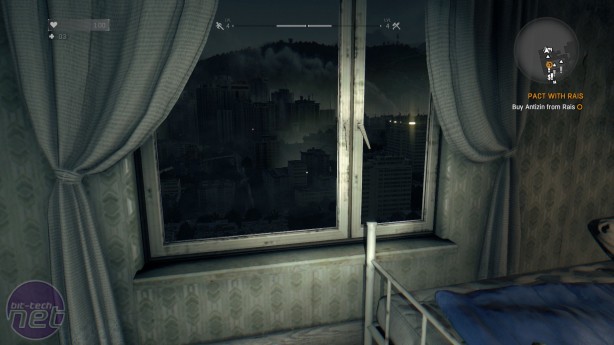 See, the night is prowled by creature called "Volatiles", zombies with the speed of an Olympic sprinter and the temperament of a honey badger filling out his Self Assessment form. Night-time in Harran is all about avoiding these vicious monsters, either by sneaking about in the pitch-black avoiding the Volatiles' vision-cones, or, if one of them spots you, cheesing it to the nearest safehouse and praying to any deity who might be listening that the bastard doesn't catch you. As if things weren't difficult enough, regular zombies are still shambling about, and fighting them will attract the Volatiles to your location.
With the sun overhead you are largely master of your surroundings, able to evade zombies easily and pick your fights at will. In darkness, you're far more reliant on luck and your ability to react. Furthermore, Techland cleverly balance night-play. They rarely force you out at night, instead preferring to lure you into darkness with the promise of double experience points and fat bonuses for surviving the night.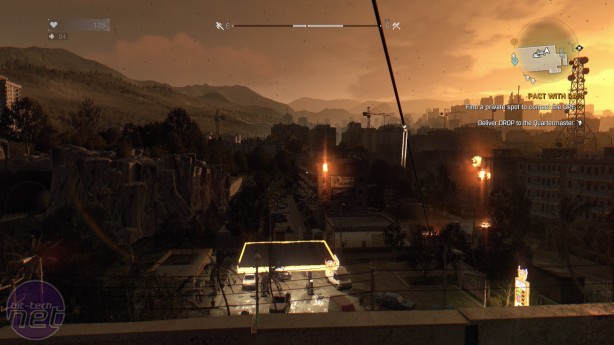 Of course, this is nothing new. Minecraft pioneered the simple idea of easy days and tough, spooky nights. Indeed, little about Dying Light is original, but it's how Techland puts everything together that makes it such an intriguing, engaging survival game. That said, it isn't a perfect blend.
To start with the writing is very uneven. Some of the characterisation is fantastic. Two characters in particular, Brecken and Zere, stand out. Brecken is the leader of the
Tower, and is ably voiced by Stephen Merchant as man whose responsibilities outweigh his capabilities. Meanwhile, Roger Aaron Brown turns in a beautifully grounded performance as Zere, the gentle-voiced doctor seeking a cure to the virus that caused the zombie outbreak.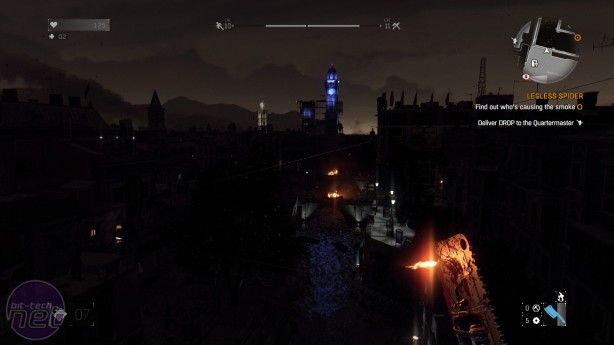 Unfortunately, as is so often the case with open-world games, the vast majority of characters act as glorified quest-dispensers who are quickly abandoned as the locus of the action shifts. And for every good character there are two or three middling to poor ones. The lead antagonist, Rais, is a one-dimensional wall-chewing madman, while Crane himself is tonally all over the place, a supposedly experienced spy who frequently whines like a teenager and is shocked when a covert government agency asks him to perform ethically dubious actions.
Dying Light is also quite a baggy game. Most of the side-quests are individually tailored, yet Techland can't help but throw in some completely incongruous cookie-cutter activities like running races. Meanwhile, other distractions like "airdrops" and the late-game fortress assaults are very obviously underdeveloped. The former are significant early on but rapidly dwindle to a very simple side-attraction, while the latter appears to be a last-minute inclusion to service FPS fans.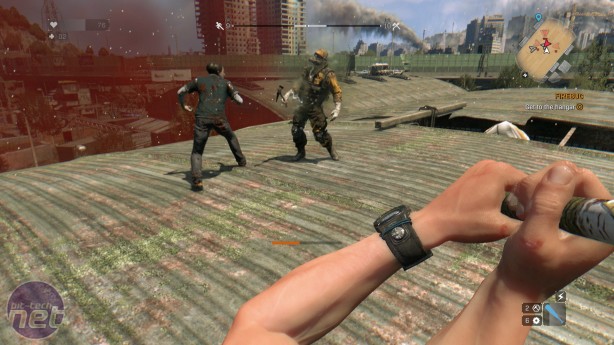 The more substantial side-quests are a mixed bag too. Many are of the "find three objects" variety, except they disguise it under multiple layers. So one person might send you to talk to another person who will refer you to a third person who will then tell you to fetch three things. That said, there are a few gems. The "Fan Zone" mission which appears late in the game is absolutely superb, a brilliant play on a familiar zombie trope. It's also worth noting that the whole of Harran can be explored cooperatively, as is obligatory these days with any open-world game.
The best recommendation I can give Dying Light is that it managed to temporarily override my feeling of complete exhaustion toward zombie games. Its slick systems, speedy play and cleverly contrasting days and nights result in easily the most fun virtual interpretation of the Z-word since Turtle Rock's Left4Dead. Techland have done a fine job. Now please, for the love of all that is unholy, let's have a game that focuses on other monsters.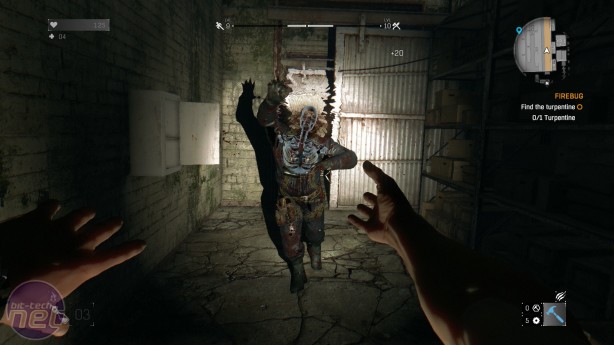 Bit Tech.net